Hello All- Just a reminder of our upcoming
St. Barbara's Day Celebration!
If you have not yet had a chance to RSVP, please advise soonest
so we can begin to confirm numbers with caterers. Looking forward to seeing you!!!
The 26 Field Regimental Senate on behalf of the
The Commanding Officer, Regimental Sergeant Major
and Members of 26th Field Artillery Regiment RCA

Invite you and your guests to share in the
Celebration of Saint Barbara
On Friday 01 December 2023
Held at the
The Brandon Armoury, 1116 Victoria Ave
Cost: $25.00 per person or $50.00 a couple payable at the door.
Timings: 1800 hrs (6PM) Cocktails
1900 hrs (7PM) Toast to St. Barbara, Dinner (Chinese Food)
Dress: Relaxed (no jeans)
RSVP to Lori Dangerfield@ 204-724-4212 by 30 Nov 2023.
or by e-mail: loridangerfield @mts.net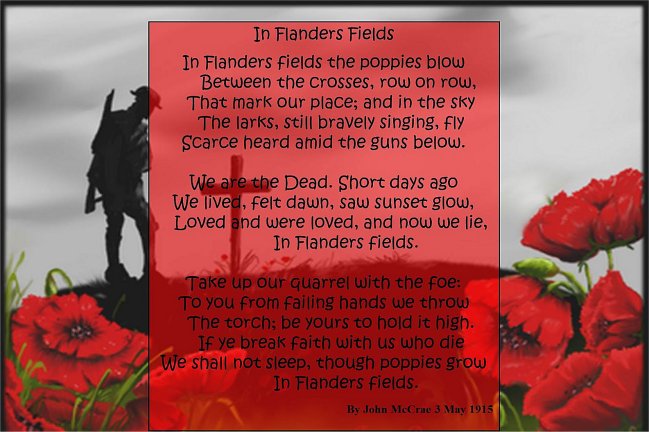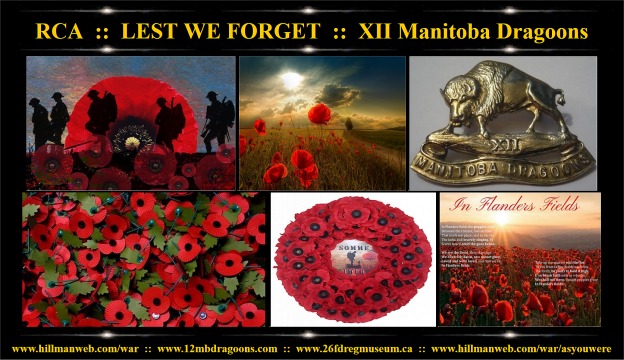 The Museum is open to the public.
Tuesday 9:00 am to 4:00 pm.
Closed for lunch.
And open by appointment.




www.12mbdragoons.com/garden



2023 VIMY NIGHT PHOTO GALLERY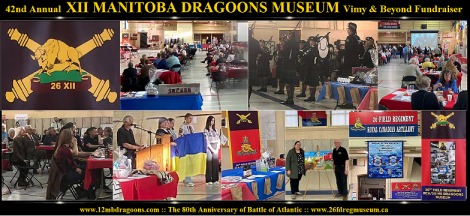 Visit our 2023 NEWS Section to see the Photos and Vimy Info
https://www.12mbdragoons.com/news/2023



VIMY NIGHT 2023 ~ SATURDAY MAY 6
See the complete program in the NEWS section



Explore The
26th FIELD REGIMENT - RCA LIBRARY CATALOGUE
https://15176.rmwebopac.com/


....
Be sure to read Bill Hillman's
MONTHLY MILITARY TRIBUTE WEBZINE
Bill Hillman's AS YOU WERE . . . FLASH
Forces: Land ~ Air ~ Sea ~ Home
With Every Issue in
ARCHIVE BACK TO 1999
..The museum, archives and library are located on the first floor, north end, Brandon Armoury, Brandon, Manitoba, Canada. It has been open to the public since 1979 and it has had visitors and e-mail correspondence from all provinces, most of the states and many countries. Comments from people who have visited the museum indicate they have found the museum very informative and the time well spent. The museum is run totally by volunteers. There is a work force of nine, who work one day a week through the winter. The museum is dedicated to preserving the memory of those who served their country in the various wars and engagements in which Canadian troops participated -- especially units that are associated with the southwestern corner of the province.
There is a wide range of military memorabilia, including uniforms, webbing, bayonets, cap badges, shoulder flashes, flags, maps and swords. The museum library contains material which covers practically every war, battle or skirmish in which Canadian troops were involved. This information would be of particular value to anyone doing research in this area.

There are many pictures of individuals units and locations pertaining primarily to personnel and events originating in this area and other areas that troops of local interest were involved. Also the museum has a large archival section which contains, among other things, hand-written documents and orders from about 1903. A display comprised of approximately 400 regimental buttons has recently been added to the museum's exhibits. The buttons are from Canadian, British and American units.
BRANDON ARMOURY
1116 Victoria Avenue
Brandon, Manitoba
R7A 1B2 Canada

Office: 204.717.4579
Fax: 204.725.1766

Free Admission to the Public
Hours of Operation: Tuesdays:
0900-1130 hrs then 1300 to 1530 hrs

Tours may be accommodated by contacting
Edd McArthur:
Curator
204.726.3498
26fdregCurator@wcgwave.ca

.The Brandon Armoury was built in 1907. It is a solid, three-story high, brick building.
In 1937 an addition to the building was completed at the south end which also is three stories high.
Over the years, many different formations have been housed in the armoury. To name a few: RNWMP ~ RCMP ~ 99th Manitoba Rangers ~ XII Manitoba Dragoons ~ 59, 70, and 71 batteries under the heading of 26th Field Artillery Brigade and later 26th Field Artillery Regiment. The building has housed the cadet corps since their inception. The armoury is an historic site building.
VIRTUAL TOUR OF OUR MUSEUM
NAVIGATION MAP
www.12mbdragoons.com/tour
.
SPECIAL FEATURES


Our AS YOU WERE. . . Military Tribute Webzine Presents:
CANADIAN VALOUR AT
THE BATTLE OF VIMY RIDGE :: World War I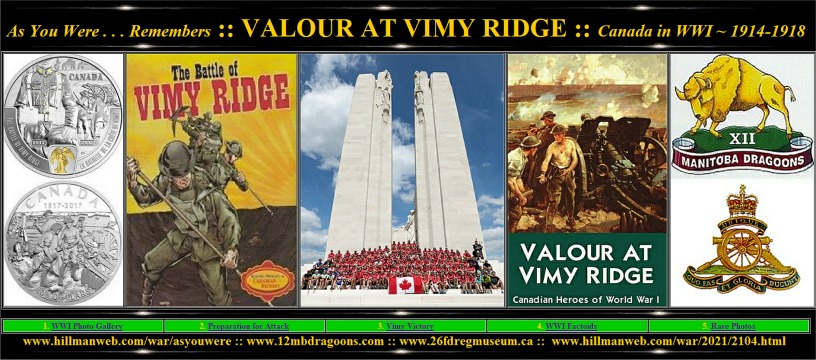 Featured Across 8 Giant Webpages with Over 100 Photos
WORLD WAR I FACTOIDS
The 100,000 Forgotten Soldiers of WWI
Part 1
The 100,000 Forgotten Soldiers of WWI
Part2
O Canada ~ The Maple Leaf
Bomber Evolution
REMEMBER
Ross Neale Honoured
A lifetime of service recognized: Maj. Gen. John Arch MacInnis presents
Ross Neale with an RCA commendation for his leadership
and dedication in developing
the XII Manitoba Dragoon and 26 Field Regiment Museum.
Photos and Press Coverage HERE
..
.
---
TRIBUTES FROM EUROPE
---
FRENCH TRIBUTE SITE
From Chryst Masson - France

..
ALBERT METSELAAR PHOTOS FROM THE NETHERLANDS

.
HENK BREDEWOLT WWII MUSEUM COLLECTION
Dragoon Tributes

.

STAGHOUND RESTORED
A Tribute to the XII Manitoba Dragoons by Marco Hogenkamp

.

DUTCH TRIBUTE SITES
from Dick van Faassen: Wierden - Nederland

.

---
BRANDON PHOTO ARCHIVE
The Great War Years




XII Manitoba Dragoons and 26 Field Regiment Facebook Page
(Maintained by the Museum Office Staff)
E-MAIL CONTACTS
Bill Hillman: Volunteer Webmaster
Hillman Eclectic Studio
hillmans@wcgwave.ca
HILLMAN MILITARY FACEBOOK GROUP
XII MB Dragoons and 26 Field Regiment Website Design
by Volunteer Editor, Web Host and Webmaster: Bill Hillman
Celebrating our 21st year on the Web
All original contents Copyright © 2001-2023